FAQ - Home Maid Cleaning Service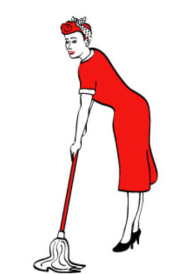 Question : Can I call to get a quote?
Answer: Every house is different, so we will set up an appointment for a "walk through" with you, so that you can tell us what you need.  We'll give you a free estimate and then set up a day for your cleaning.
Question: What is included in a home cleaning?
Answer:   We normally do basic cleaning which includes; dusting, vacuuming, mopping, surfaces of counters, cabinets, baseboards, tubs, showers, sinks, outside of appliances and ceiling fans.  We can also do windows.
Question: Do you have references?
Answer:   Yes, references are provided upon request.
Question: Do I have to provide my own cleaning products?
Answer:    Not unless you want to.  We usually provide all cleaning products and equipment.  We occasionally have a customer that would like to supply a particular item.
We also ask about your personal preferences for cleaning products that you would like us to use on special surfaces.
Question:   Does more than one person come for a cleaning?
Answer:     Some homes we may use just one person, other's we use two.
Question:   Where do you provide services?
Answer:      We mainly service the Highlands, Cashiers and Franklin area.